Space engineering laboratory of Al-Farabi STP
An analysis of the trends in the commercial application of space technologies shows that one of the most promising way is the developing and use of small satellites. Such satellites are developed in all world famous universities and commercial organizations. Today, there are already several satellite constellations in the world, showing the global trend in the development of nanosatellites.
Since 2013, at al-Farabi KazNU under the leadership of the rector, academician G. Mutanov, is implementing a project to developing of University nanosatellites. The main goal of the project is the scientific and educational component, the formation of the scientific and innovative basis of the domestic school of space technology, the training of highly qualified specialists in this field, the creation of university's satellites and ground segments.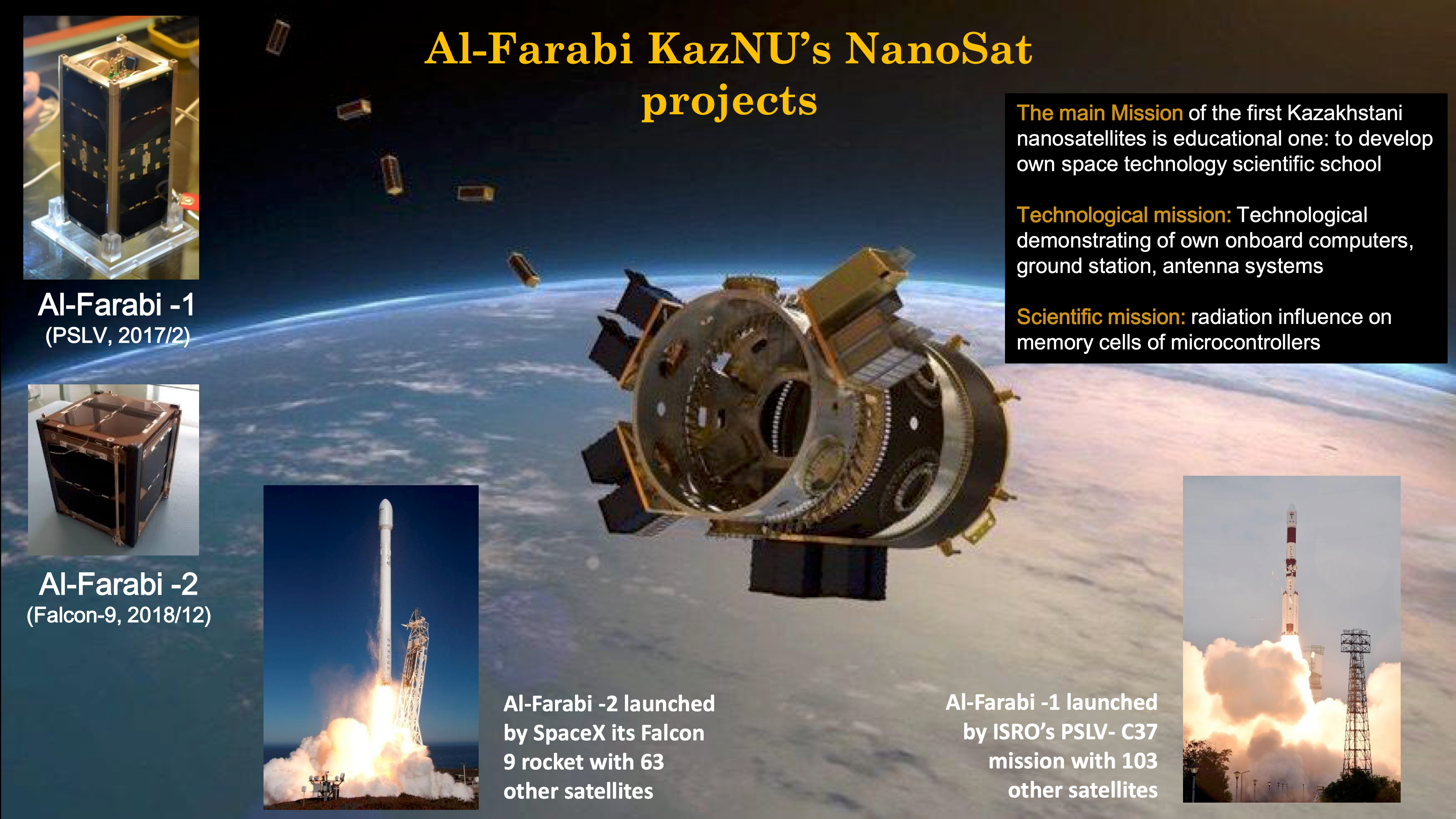 «Al-Farabi Science and Technology Park (Al-Farabi STP)»'s first project was implemented on the basis of the KazNU Science and Technology Park in 2013-2015. Under the project, undergraduates and doctoral students of the university underwent a scientific internship at the University of Tokyo, participated in the international project UNIFORM. Between 2015 and 2017 students were trained at the Technical University of Berlin, as well as on the basis of the companies GomSpace (Denmark), ISIS (Netherlands) and Sputnix (Russia).
As a result of our work, on February 15, 2017, the first Kazakhstani nanosatellite al-Farabi-1 was launched. al-Farabi-1 was launched from Satish Dhawan Space Centre (SDSC) (India) in a single PSLV-C37 mission.
On December 4, 2018, we managed to launch our second al-Farabi-2 nanosatellite from the Vandenberg Air Force Base (USA). The launch was carried out on the SpaceX Falcon-9 rocket launcher.